Karina Gurgenova
Knowledge Transfer Program Manager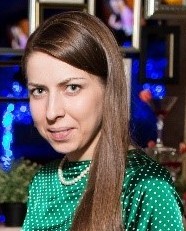 In 2007 Karina Gurgenova graduated as a M. Sc. in Chemical Engineering from Moscow, D. Mendeleev's University of Chemical Technology of Russia, Faculty of High Resource-Saving and Information Technologies (old named as Cybernetics and Chemical Technology).
In 2007 worked as Associate scientist in Institute of Chemical Reagents and Extremely Pure Substances, Moscow.
In 2010-2011 she completed several different projects as a visiting researcher in Hamburg University of Technology, Germany in Nova University of Lisboa, Portugal.
2007- 2013 Associate Scientist and Ph.D. Student of Lodz University of Technology, Faculty of Process and Environmental Engineering, Poland (Defending of the thesis in Poland in 2014).
Joined Skoltech in March 2014.